Okay, so today's post is a shameless bid at winning a ticket to Alt SummitSLC in January. I'm big enough to admit it.
I'm a big fan of Alt. I remember reading
this post
about the first one. And I'm an even bigger fan, that I Alt has built on it's annual Salt Lake City summit, and is now accessible for all, with their online Alt classes, & now their
blog
. (Make sure you
check it out
, it's a happening place full of 'meaty' content.) But I'm sure there is nothing like the being there in the flesh and having a physical conversation with others who are in the creative industry. Fun times.
Bing is a big partner of Alt's and they generously gave me a free Alt class last month. (Thanks Bing!) I've been hearing all the buzz about their search engine being superior in the way it searches through social networks too. It's all about turning off auto pilot, and 'Binging it On'. Did you even know you can change your default search site right here in Safari? (those of you who own a PC, please feel free to share the instructions in the comments for others).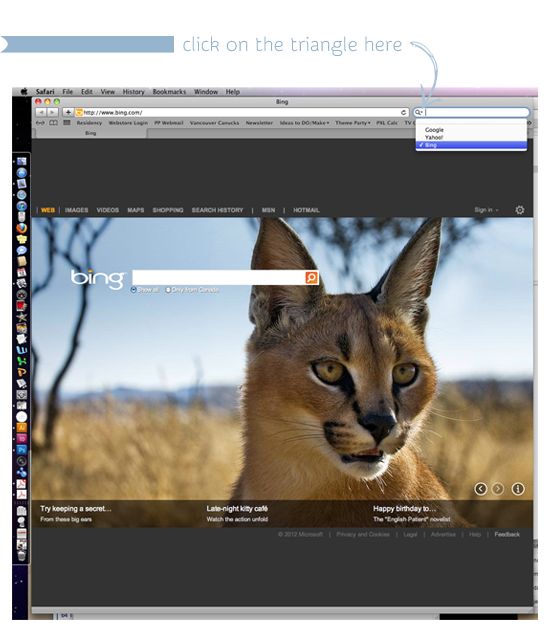 Just pop up the top search bar and click on the little magnifying glass thingy. In the drop down it has the three main search engines you can use...just go ahead and change it to Bing! Easy. Done. And here's the better social searches! And spread the word! You never know...we might just get to meet-up at Alt! : )
For blogging inspiration & business advice check out the new Alt blog.