This post is in response to a question one of my readers asked (thanks
Krystal
) and I thought maybe it's something that may help you when using
printables
on fabric.
I have done a few projects over time that use my designs on fabric. For these projects I use iron-on transfer paper. (For the record, this is the only time I actually enjoy ironing something :)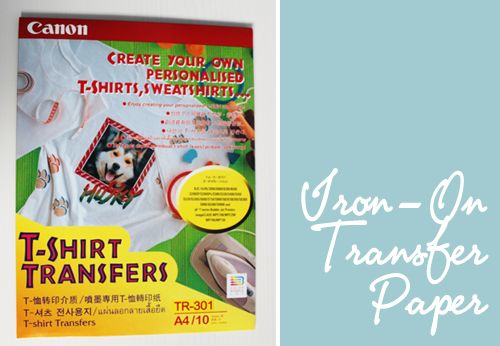 This is the brand I like and I get it from
Officeworks
. I have used other brands but they seem to have a white base which shows up if you don't trim exactly to the edge of the design. This Canon brand seems to be a little more forgiving in that it's transparent so white actually shows up clear (may not work if you're putting white onto something however!).

On my
spring picnic
&
midnight snack
bags you can see the base bag colour instead of white. The middle photo is from a
t-shirt
I made with a different product and you can see the gaps between the letters, and up close it looks a little bit dodgy with a clear white base. This brand just looks a little more polished. I hope that helps. If you have tried another brand that works great, I'd love to know about it!
Happy Ironing :)
{new things in store:
wooden scoops
&
easter printables
:: And last chance to
vote
!}