I first created a crepe paper chandelier for a
photo shoot
last year. Unfortunately it wasn't featured, so I've been hanging out to create another for some event. Our
farewell party
seemed the perfect oppportunity with a cute colour palette. They're kind of my new favourite backdrop.
They are inexpensive to make and super easy to boot, and easy enough for a little boy to help out with too.
All you need are
// Embroidery hoops in various sizes
// Crepe paper streamers in your choice of colours &
// Masking tape
// Twine to hang
I suspended my hoops from a hook stuck in a ceiling beam to give me some height. Then worked my way around the hoop, taping streamers over the edge, letting them fall to the floor & then cut (this is where the toddler help came in handy passing them back up to me! - and yes, it must have been hot work :).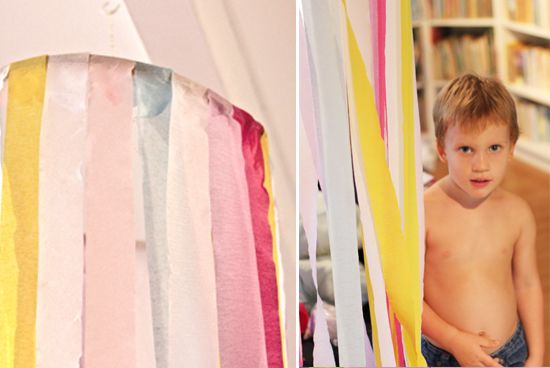 I alternated colours that matched my event, but you could do these in solid colours which I think would look really cool too.
I wish I'd taken a few more shots of these, but I was in such a hurry and pressed for time. They're really quite easy, but if you have any questions, just leave a comment below and I'll be sure to answer them.
Because I made these ones shorter than my first ones, there was nothing to anchor them to the ground when the wind picked up. It meant they got caught up in the trees a little more than I'd planned, but I decided not to get hung up on such a detail but just embrace the crepe paper & leaf tangle! : )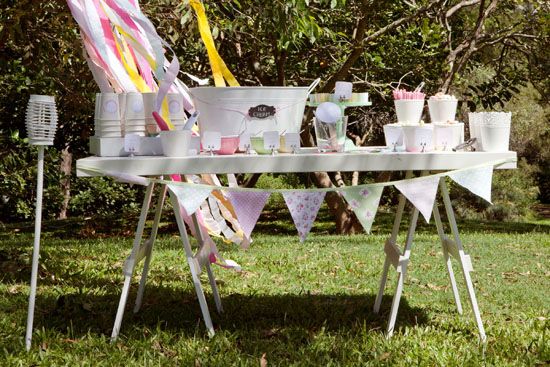 Images // DIY by Polkadot Prints & Ice Cream table by Gerty Photography