I don't know about you, but I see inspriation everywhere. Sometimes ideas take time to develop, I mull over them for weeks or even months till it works out right in my head. And then there are other times when an idea is literally smack bang in front of me.
Well, the 'smack bang' version happened the other day in the supermarket in the form of this little carton of goodness.
It even comes with it's own little teaspoons. Cute right?
It had Easter potential all over it and I automatically thought of a re-package. I know it's early for Easter projects, but I just can't help myself. Cadbury is a perfect purple match with my
Easter stationery collection
. I had to do some taste testing first though. Just to make sure I could highly recommend the product. (If you want my address Cadbury, email me!).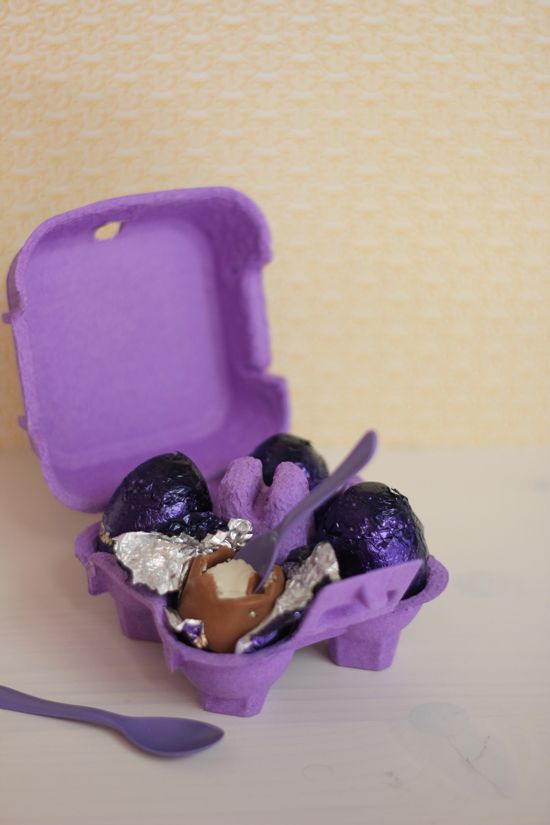 It passed. Very delish. Onto the packaging though...
I designed a label which gets stuck to the top of the carton. You could personalise this with a name or an Easter message.
Then using the A4 patterned paper included in the collection, I made some contrasting wraps.
I've added this design to the collection in the
shop
, so you now get 8 pages of printable goodies.
You can see some other ideas from this collection
here
&
here
.
UPDATE: After a few requests, you can purchase just the labels + digital patterned paper on it's own. View and purchase in the
shop here
. I've just added a half dozen egg carton size to this printable too incase you can't get these Cadbury 4 packs in your local shops! x