I shared a little of the
background of this event
last week. I've finally had some time to go through the hundreds of photos I took and share a little glimpse of this special morning.
There were scores of volunteers involved in the morning which is an annual event that seriously makes you appreciate life, realise what is really important and feel a little bit proud to be involved in something that truly brings a little bit of light into the world of women who are struggling.
Due to the nature of the event, and the fact that I can't show you the women's faces and reactions to the morning, it's hard to portray the emotion that was in the room. So please use your imaginations and add a few tears, some laughs and a few rounds of goose bumps! The overall theme for the morning was 'you are beautiful'...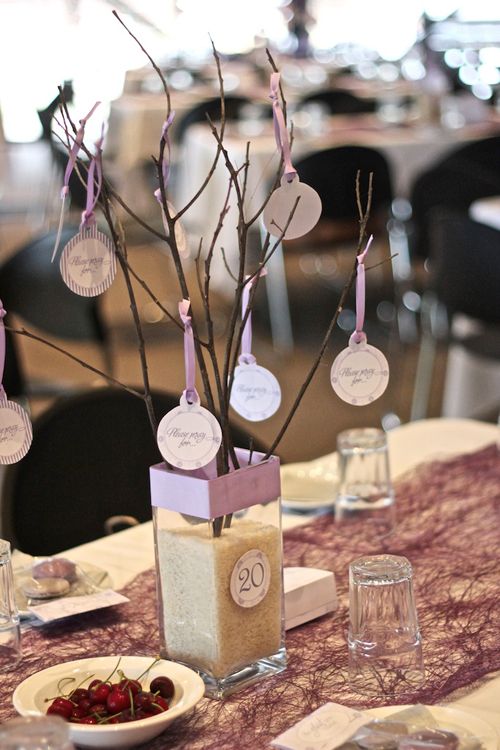 We were on a fairly tight budget for the decorating side of things. I always think a tight budget doesn't need to look cheap, but actually challenges you to come up with creative solutions to achieve the look you're after even when you don't have the luxury of going and buying what it is you need. A little bit more time is involved, but it still can look beautiful!
One of these 'creative challenges' were the cake stands and table runners. I'll share more on those in a follow up post...I have a feeling this is already going to be a long one!!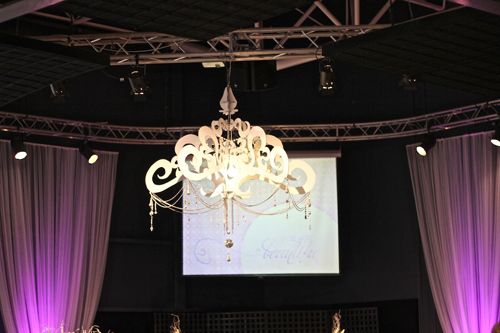 The purple was already determined, so we added white and a little silver throughout to add a little bit of glam Christmas. One of the big 'wow' factors was this 'chandelier' made from old fridge boxes complete with beads and light bulbs. One of the guys from the church made this in his 'spare time' - brilliant! Really was a talking point and focus for the room.
Bronwen Healy from
Hope Foundation
spoke and seriously you could have heard a pin drop as she shared her story of rehabilitation from drug addiction and the sex industry. One of the goose bump moments.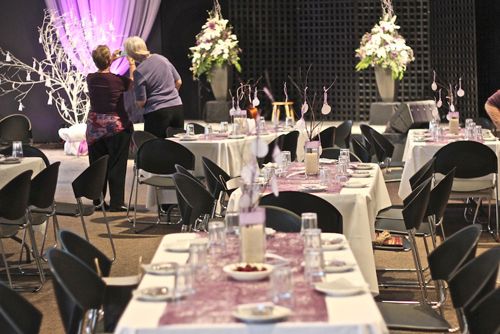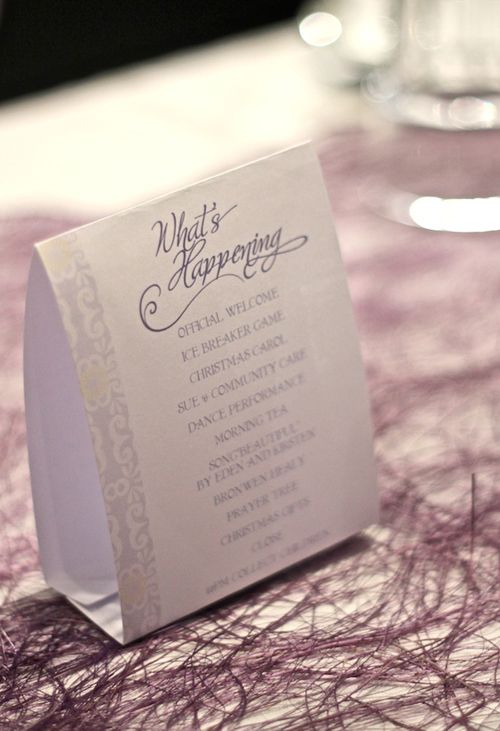 I designed the tables and all the paper goods for the morning, and had some great help to pull it all together. These tent cards had the program of events on one side and the menu on the other. Someone donated a tonne of macarons for the morning which greeted each of the ladies at their place when they arrived. There was a delicious morning tea with lots of savouries and sweets served.
After Bronwen spoke, the women had a chance to write down on the tags from the centrepieces and place any prayer requests on the tree at the front - there was a line up! Another amazing goose bump episode!
And to finish there was an "Oprah moment" where to the sound of Katy Perry's 'Firework', out paraded some volunteers, arms laden with these beautifully boxed gifts to take home! The third goose bump moment of the day!
Like I said it's hard to capture the vibe of the room in photos, but it is one event that will not be forgotten. I felt so honoured to be involved and use my 'everyday business' to help make a beautiful environment for these women. So special.
- Jordan xo