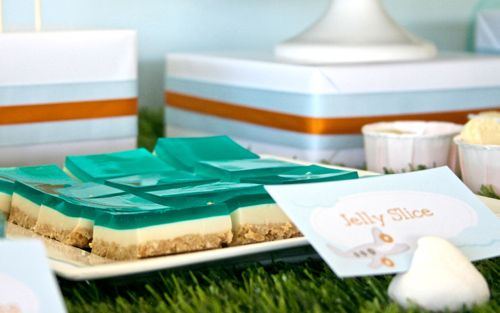 Okay, so you asked for it! I have been given official permission to share the family recipe of Jelly Slice with you. Feeling privileged? It's a trusty menu number that gets pulled out at our place at any opportunity. It's not an overly glamourous dessert, but boy does it taste delicious!
Jelly Slice
Base:
8oz crushed sweet biscuits (ie. Marie, Milk Arrowroot)
60z melted butter
Mix and press into slice tin
Middle:
1 tin condensed milk
1/2 c. lemon juice
3/4 c. boiling water
2 Dstsp gelatine (sprinkle over water before adding to mixture)
Mix and pour on base. Refridgerate
Top:
1 strawberry jelly box
3/4 pint only boiling water
When cool put on top of set middle and chill.
Kind of like an easy cheesecake. The great thing about this slice is the top layer can be made any colour to match you party. The traditional is red, but we have done green for St Paddy's day, Aqua for
Levi's party
, Navy for the
nautical theme
(added food colouring to blueberry jelly) and the list goes on. For pastel shades, try
this
product with just a tiny bit of colouring.
Happy baking, and Happy Weekend! x
{
P.S. Nthn Hemisphere friends, jelly is like your jello, hope that helps....let me know if you have any other conversion questions and I'll answer in the comments section!}