Make your own ladybirds!
One of the goals of my business is to make hosting a party easy for one and all!
Printables
are a great place to start as they can really set a colour scheme and easy theme to base food, games & everything else around. I love a lavish affair as much as the next person, and can totally get into all gorgeous party styling and but I am aware that party planning is not everyone's love (I know...can you imagine not everyone eats and breathes this stuff?!! :) So I have set a goal that each party I do has to have handmade and DIY elements that can easily be adapted to your situation, budget and style. Like?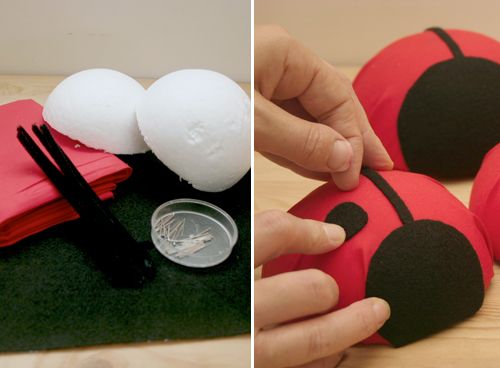 I made these bad boys for the recent
Down in the Garden
party. You will find the full DIY tutorial on Hostess with the Mostess
here
. Cutest little things to creep up my wall!
I have a couple more posts and ideas from
this party
to come, if you're looking for the how-to behind some of the ideas...they're on their way. And if you're reaching your ladybird quota, I have some lovely mothers day treats just around the corner! :)
AND...Royal wedding tomorrow...yay...the royal family so intrigue me, and while I'm no squealing teenager, I'm really looking forward to watching Will & Kate tie the knot! Have you got wedding plans? Try these free
printables and mood board
from The TomKat Studio...