Party wallpaper is perfect for behind a dessert table and for creating a strong theme for your party space. Stuck to a surface with blue tack or double sided tape it has a huge 'wow' factor when your guests walk in!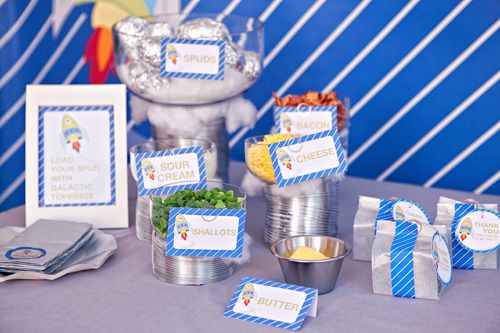 I used a wallpaper last year at
Levi's party
and also behind the
Spud bar
. And good news is I can now print them cheaper, so that saving is passed on to you! (Save $80!!).
I have started to design wallpapers that match each of my collections and they are available in my
store
. I'm slowly adding them, so if you're favourite isn't yet listed, just
email me
!
I hope you have a wonderful weekend! I'm hoping to get a couple of projects started and a couple of photoshoots done after this busy week. Not to mention some quality time with the Dave & Levi. Enjoy! xo
{Images :: Levi's Plane Party & Spud Bar Space Party - Polkadot Prints
:: Tiffany Party - Leo & Bella}